The Edmonton Journal  October 2017- by Roger Levesque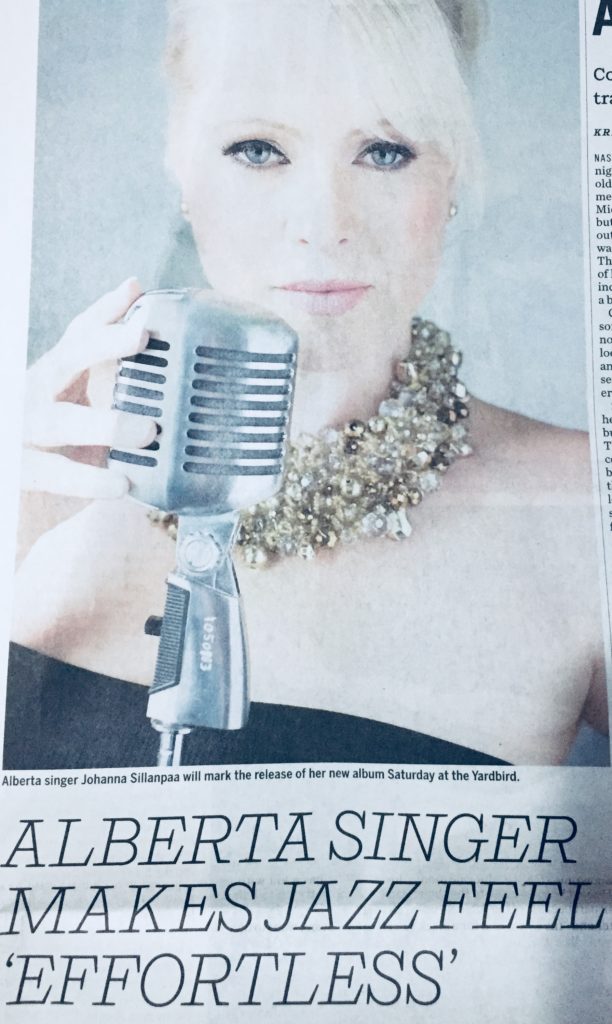 The WholeNote Magazine May 2017- Review by Raul da Gama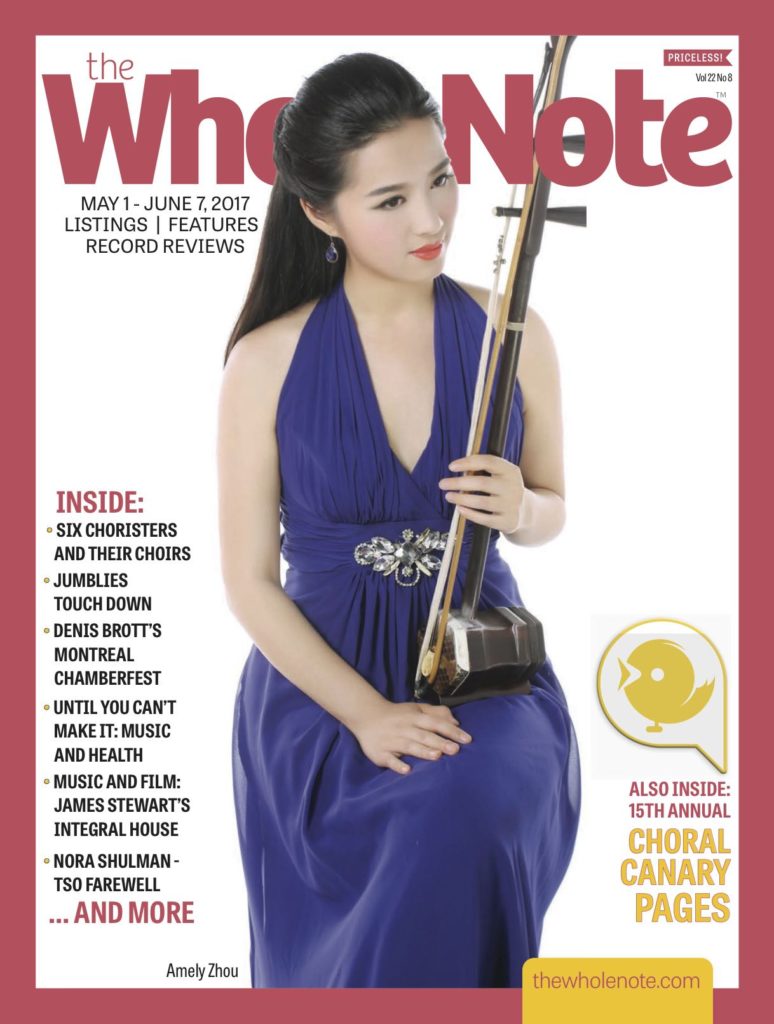 Le Journal de Montreal March 25 2017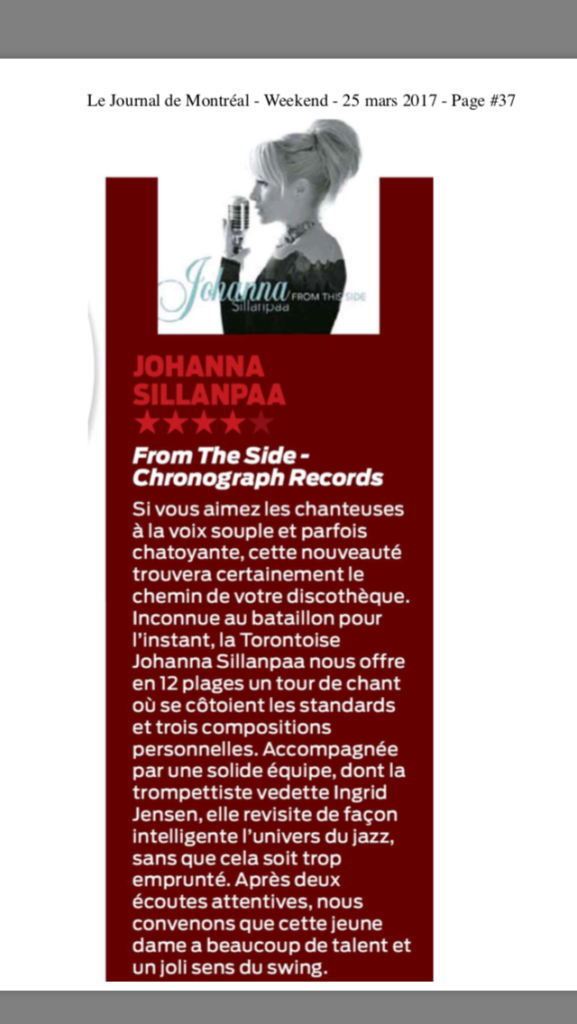 A&E website Info-Culture March 27- By Jacques Leclerc
Critique de Salon by Audrey-Anne Asselin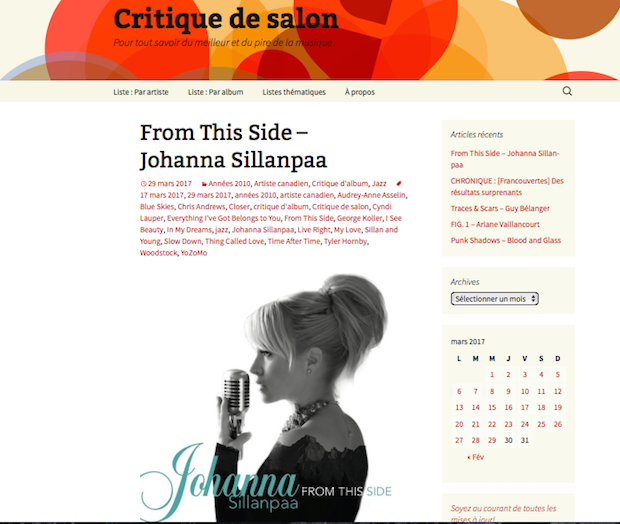 The YYYCscene.ca article March 18 2017– By Mike Bell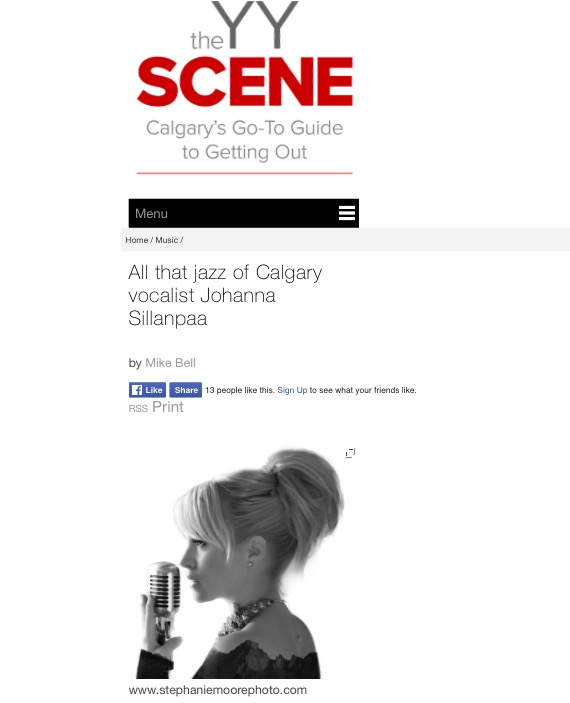 '
Calgary Herald Article March 18 2017– By Eric Volmers

DECEMBER 9 2013- WAVE FM-Reviewed By Stu Berketo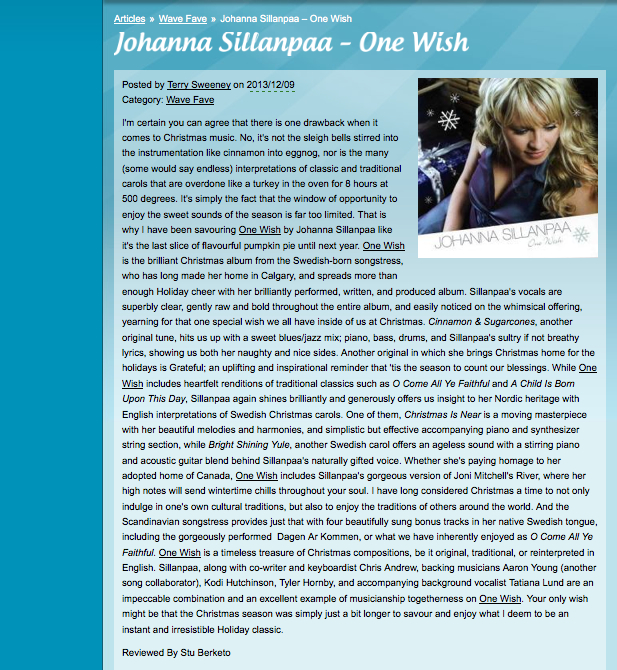 OCTOBER 22 2012- CBC Radio BLOG " The Jazz Evangelist"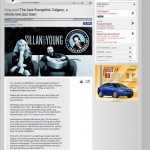 APRIL 3 2012″ Jazz Artist in the Park"– Sherwood Park Newspaper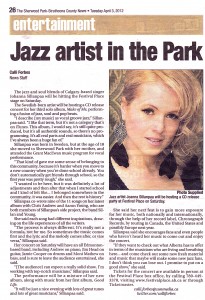 Charts
"Make of Me" makes CKUA Radio's Top 30 – CKUA Radio Listings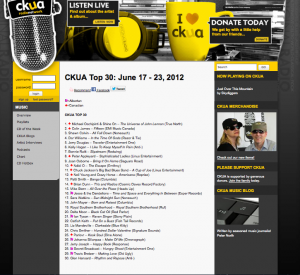 "One Wish" Top 20 Best Canadian Jazz Recordings in 2011″- Ejazz News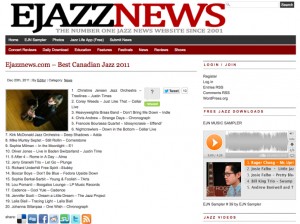 Johanna's talent and grace are stunning take Corrine Bailey Rae, Norah Jones and Joni Mitchell..add some haunting sensuality, brilliant pop influenced song writing and real Jazz players and you've got Sillan and Young says Cameron Smith host of Smooth Jazz TV.

Steve Quirk's Smooth Jazz Radio Show – Smooth FM
Radio presenter Steve Quirk from the UK jumped on the CD right away and has been playing it on his Fusion Flavours show in the UK as well as across Europe on Smooth FM (www.smoothfm.com)  Steve aired the track "On the other side" on his syndicated US radio show on Sunday February 26th 2006 with instant response.
Here's what Steve Quirk had to say about  "Good Life"
-"As soon as I discovered the CD, It was a joy, I loved it!

Listen to a clip from 'Fusion Flavours'


[audio:https://www.johannamusic.com/wp/wp-content/uploads/2012/04/fusion.mp3|titles=Fusion Flavours]

It has a bluesy Erika Badu meets Billy Holliday groove and Johanna's voice is silky, classy, sexy and sophisticated. The outstanding tracks on the CD for me are, the mellow "Sometimes", the funky"Suck it up" the groovy "Hush" and the floater "My oh my". The two big tracks that I see having "massive potential" across radio are, the beautiful and sublime "Thank you", and the excellent "On the other side".  Both have that class and sophistication of Norah Jones tune and potential to be HUGE!"  Check out Steve and his show FUSION FLAVOURS at www.fusionflavours.com
Kurt Leavins, Program Director Magic 99 Edmonton – [ Good Life ]
At Magic 99, we felt there were dozens of artists in our community who deserved a place on the radio, or if they had already received some cursory airplay in Edmonton, the deserved a permanent home. It was through the process of starting up our Rawlco Radio 10k20 project, that we were exposed to the delightful Johanna Sillanpaa.
Her marvelous voice begins in the smoky lows of Norah Jones, and effortlessly climbs into the powerful, confident ranges of Lisa Stansfield. Since Magic 99's sign on in December of 2005, we have added two of her original compositions, "Suck It Up" and "Spend Some Time", into daytime rotation. A number of other cuts have found their way onto our station as well. Magic 99 and Rawlco Radio are delighted to have played a very small part in the evolution of this very talented individual.

  Interviews & Articles


5 Questions for… Johanna Sillanpaa
Heath McCoy, Calgary Herald


Avenue Magazine
Duo With Dynamics


Calgary Culture Club
Music Feature Review


Toll Booth
Phantom Tollbooth Review


Eric Boisson
Website Interview


CBC Radio One
Key of A Program


Edmonton Journal Article
Swedish singer Johanna Sillanpaa, jazz guitarist Jim Head both have music roots here…


Calgary Sun Article
Johanna's Good Life Lessons